Company History
PhiChem Corporation was founded in 2002 in Shanghai, China, with an aim to provide cost-effective, high-performance materials solutions to companies in the high-tech manufacturing sector. Early products included UV curable coatings for the optic fiber and cable industry.
Today, we are the largest supplier of UV curable materials to the optical fiber and cable industry in China and one of the top three suppliers for that industry in the world.
In 2009, the company opened its manufacturing facility in Anqing, China and expanded its product portfolio to include electronic materials.
In 2014, the company went public and it is now listed on the Shenzen stock exchange (Stock code: 300398.sz).
In 2016, PhiChem relocated its corporate headquarters and R&D labs to a state-of-the-art facility in the Baoshan suburb of Shanghai.
In 2017, PhiChem expanded its electronics materials business by acquiring an epoxy molding compound (EMC) production business, as well as a solder-ball manufacturing business, to strengthen its electronics component packaging materials portfolio.
Also in 2017, PhiChem merged with Nanjing-based HCCH to expand into production and supply of liquid crystal materials for liquid crystal display panels.
In 2019, Shenzhen PhiChem New Material Technology Co., Ltd., a wholly-owned subsidiary officially established in Bao'an District, Shenzhen, to serve as the sales and marketing hub of PhiChem in South China.
In 2021, Anhui ChiChem Corporation, a wholly-owned subsidiary of PhiChem Corporation was inaugurated. A new manufacturing facility for semiconductor materials is also under construction in Taicang, in Jiangsu Province. The total production base area of PhiChem has exceeded 500,000 square meters.
---
Global Presence
PhiChem employs over 1900 people in four geographic locations, primarily in China, Taiwan, Japan and the United States. We have over 100 customers worldwide, with sales offices in China, Taiwan, Japan, United States, South Korea and India.
---
Product Portfolio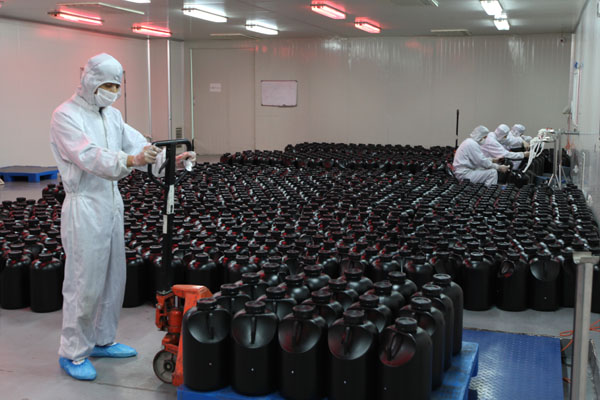 ---
Research & Development
PhiChem relies heavily on Research & Development to fuel product innovation and develop environmentally friendly products that are cost-effective. Our R&D staff includes over 500 skilled and motivated scientists, engineers and technicians working in state-of-the-art laboratories to develop high-performance materials that are consistently of high quality and competitive cost.
PhiChem is an ISO9001:2008 and ISO9001:14001 certified supplier.