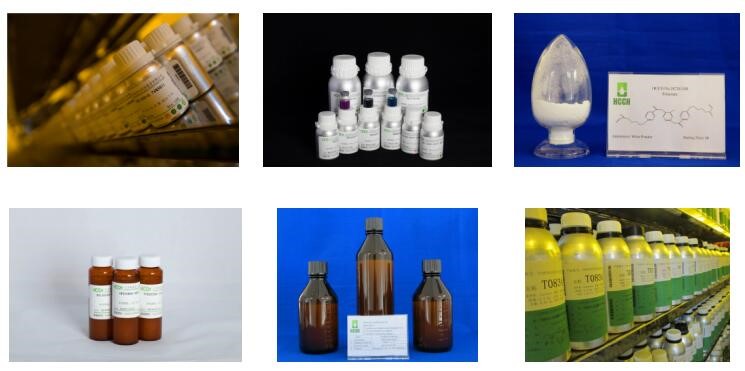 PhiChem's HCCH subsidiary, based in Nanjing, Jiangsu, China, provides a variety of liquid crystals and related materials which are used in commercially available TFT-LCD display panels. These products include raw materials, intermediate materials, single-component liquid crystals and liquid-crystal mixtures. HCCH has a strong patent portfolio, and the capability to produce a wide variety of liquid crystal phases including twisted nematic (TN), super-twisted nemaic (STN), smectic, and polymer dispersed liquid crystals (PDLC), to name a few. Please check back for more information to be posted here on this PhiChem product-line, or contact us for immediate assistance.
PhiChem's developmental materials for display panel fabrication processes include a line of photoresists for touch screen borders, color filter and black matrix. Photoresist products for processing of TFT-LCD panels and Organic Light Emitting Diode (OLED) materials are also in the pipeline. Please contact us to learn more about our efforts.
OLED Materials
Organic Light Emitting Diode (OLED) Materials
PhiChem is developing ultra-high purity organic electronic materials for utilization in OLED displays. We can currently supply these materials for collaborative R&D efforts. Products in this category include materials for:
Hole Injection Layers (HIL)
Hole Transport Layers (HTL)
Emissive Layer (EML)
Electron Transport Layer (ETL)
Capping Layer (CPL)
Dopants
Liquid Crystal Materials
Liquid Crystal Materials
PhiChem's HCCH subsidiary is one of the leading suppliers of liquid crystal mixtures, single-component liquid crystals & intermediates and customized liquid crystals. While display panels are the main application area for the liquid crystal materials, a variety of other traditional and emerging applications, such as Smart Windows, are also well within the scope of our product portfolio.
Liquid-Crystal Mixtures
Our products include high-purity liquid crystal mixtures for forming nematic, smectic and cholesteric phases for a variety of optical and optoelectronic applications. For display applications, PhiChem HCCH can precisely tailor liquid crystal mixtures to customer specifications for Twisted Nematic (TN), Super-Twisted Nematic (STN), Vertically Aligned Liquid Crystal (VALC) and In-Plane Switching (IPS) display configurations. PhiChem HCCH has also developed proprietary, ready-to-use Polymer Dispersed Liquid Crystals (PDLC) formulations for Smart Windows and other optoelectronic devices.
Contact us with your specific application requirements for:
Dielectric anisotropy (Δε)
Viscosity
Temperature range of operation
Switching voltage, and
Response times
and we will either recommend an off-the-shelf solution or design a custom mixture that fits your needs.
Single-Component Liquid Crystals & Intermediates
PhiChem's HCCH subsidiary also has a business unit that specializes in the organic synthesis of Single-Component Liquid Crystals and Intermediates that are the building blocks for liquid crystal mixtures used in display and other optical applications.
Customized Liquid Crystals
PhiChem's HCCH subsidiary has a highly experienced R&D team that can assist customers with the development of custom liquid crystal materials for emerging technologies in the display industry as well as other applications. Examples of such materials include Reactive Mesogens (RM) for optical film coatings with unique properties and Blue Phase Mode (BPM) liquid crystals for fast switching displays. Contact us to learn more about our capabilities.
Photo Resists
Photoresists
PhiChem's is also developing a portfolio of photoresists for thin-film transistor liquid crystal displays (TFT-LCD) including:
Black Negative Photoresist
These developmental materials are expected to have excellent slit coating and spin coating characteristics. The coatings are targeted to have excellent resolution and could be used in color filter and touch panel applications.
Positive Photoresist
The materials under development are a class of positive photoresist for thin film etch. It is expected to have good adhesion to ITO, Mo/AI/Mo, Cu, SiO2 base materials. Typical applications include TFT array fabrication, IC packaging and RDL processing.